Hallelujah it's Friday and I'm exhausted. To-do this weekend: SLEEP.
Why so tired
you may wonder? Well there were a lot of things going on this week!
On Tuesday night I met up with a friend for dinner at
Hogo
, a new-ish tiki bar/pop-up restaurant near the Convention Center in DC. The kitchen features a different type of cuisine every month, and since we went on April 2, we wandered in with no idea what to expect.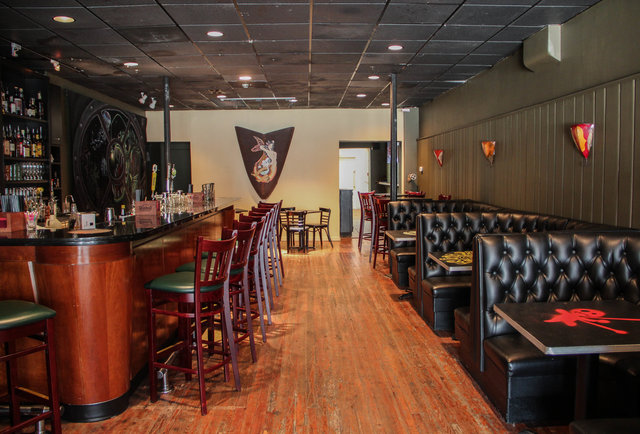 We sat down at the back counter overlooking the kitchen, chatted with the chefs, and learned that this month's
menu
is Gypsy Soul. I'm still unclear on
exactly
what that means, but I do know that it was delicious! We got pimento cheese with spelt lavash, oysters over brioche with chard, artichoke, and bubbles (? – so says the menu), and an apple hand pie with bacon-vidalia onion ice cream and salted caramel.
The good news is that it was all really good and the chefs were fun…the only bad news is that the "big eats" (our oysters) were still pretty tiny. And onion ice cream – who would have expected it to be that delicious!?!
Then on Wednesday I went to a super-amazing concert at The Birchmere in Alexandria. I know I've mentioned my love of the
Carolina Chocolate Drops
, and OMG GUYS, LIVE THEY ARE AMAZING. They all sing – the
lead singer
is
so
impressive, but they're all legitimately good – and play many many
instruments
(banjo, fiddle, guitar, harmonica, snare drum, quills, bones, jug, and kazoo).
And they just seemed to be having so much fun up on stage! There was a song in
Haitian
, as well as one in
Gaelic
. Fun times. And the venue has a bear…because…ummm, I have no idea. (Ok one more -- this is my
favorite song
of theirs...go bones!)
SpeedyKate: "Make a bear face!!!"
Anywho, that's enough chatter for now. On to some
Best of the Week
links! My most popular post this week was my
Girl Scout Cookie Upside Down Cake
, which was also featured on the Christian Science Monitor's
cooking blog
.
Awwwww. This dog looks like an alien, but I like it. "
Boy and French Bulldog are Best Friends (Picture Gallery)
."
Impromptu sax battle in NY subway. EXCELLENT, let's go to New York! (
source
)
Totally random, but WHAT this is horrifying. "
Doctor killed 300 patients? Doctor felt 'all powerful,' say prosecutors
."
"I want to clear the intensive care unit. It's making me itch," she said in one recording released to Brazilian media. "Unfortunately, our mission is to be go-betweens on the springboard to the next life," she added in the same phone call.
"
Inta Munu
"
(Juba Arabic) 'Inta Munu' - 'You are who?' - A tumblr seeking to capture the identity of South Sudan
Haha ooh Twitter.
@1890'sProblems
On Instagram:
Dronestagram:
A Drone's-Eye View
.
These are the names of places. They are towns, villages, junctions and roads. They are the names of places where people live and work, where there are families and schools. They are the names of places in Afghanistan and Yemen, which are linked by one thing: they have each been the location of drone strikes in the past couple of months. (The latest was in the early hours of November 7th, the night of the US election.)
They are the names of places most of us will never see. We do not know these landscapes and we cannot visit them.
For a few weeks now, I have been posting images of the locations of drone strikes to the photo-sharing site Instagram as they occur (there's more on the methodology below). Making these locations just a little bit more visible, a little closer. A little more real.
Nerd alert! "
The Elements of Style Rap
."
Ok so this is a pretty short Best of the Week...what can I say, I was too busy to real the interwebs! What I'm excited about this weekend (among other things...I swear I have fun plans too...):
Have a great weekend!