One of my friends has been talking up
Toki Underground
for
months
, and last night we finally went. (The delay was much more my fault than his – I am seriously dissuaded by the prospect of a
loooong
wait when I'm hungry for dinner.)
On a Monday night, however, the wait for this 25-seat very popular restaurant was "only" 45 minutes, and I'm happy to report that it was a meal worth waiting for.
Toki Underground (which, ironically, is not underground) is famous for its Taiwanese-style ramen, but this isn't your cup o'noodles sort of ramen noodles. Usually I'm not much of a noodles and broth person (when it comes to Asian, I prefer a rice base), but this broth is like a meal in and of itself. It's made with pork bones and various other mystery ingredients (maybe
peaches
?), takes over 24 hours to cook, and is rich and delicious.
We split two orders of dumplings – chicken (deep-fried), and seafood (steamed). I preferred the seafood steamed, but honestly,
LLC's dumplings
are better. But Toki's are definitely
good
, and the teriyaki sauce they comes with is
great
.
As a Toki newbie, I went with the Toki Hakata Classic ramen with no add-ons. The ramen comes with the aforementioned delicious broth, noodles (obviously), pork loin (like a pulled pork), some sort of greens, a sheet of nori (seaweed), scallions, and a soft-boiled egg (which is
very
soft – if runny egg isn't your jam then ask for ramen
sans
egg or give yours to a friend). Also, I highly recommend the "endorphin sauce," which is like the awesomest sriracha
ever
. I poured all of mine into my ramen which I do not regret
at all
, but know that it is
hot
.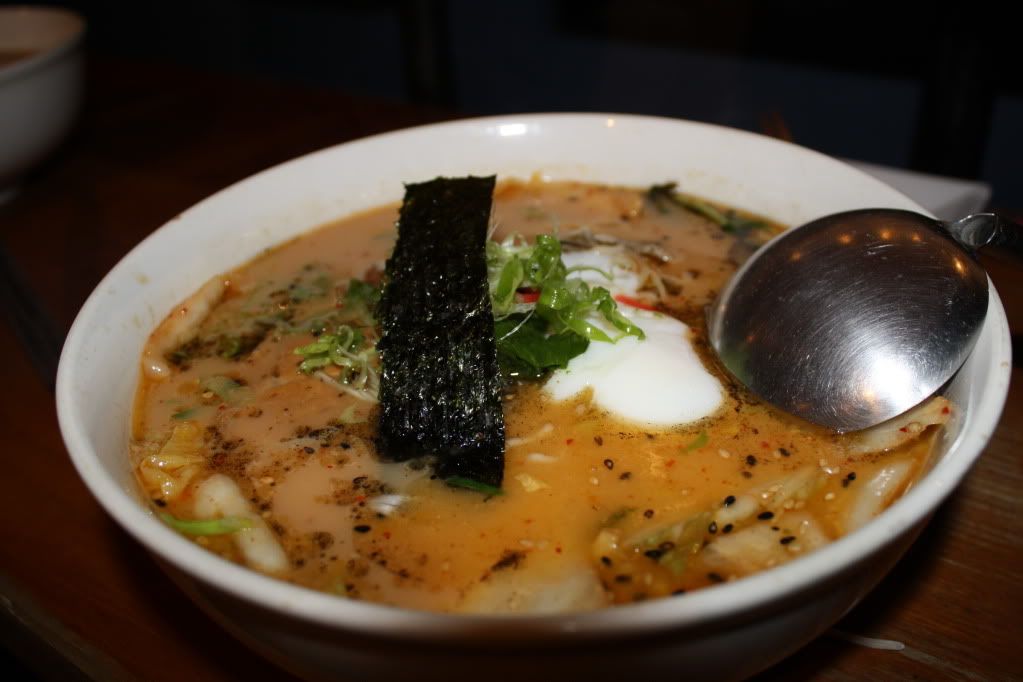 I was warned that the portions would be so big that I couldn't possibly finish it all, but
Umm hello have you met me?
Obviously I did. I mean, it's a big bowl of mostly delicious broth, so actually I left satisfied but not overly full, and very well-hydrated.
At $10 a bowl this is the cheapest
delicious
meal ever. I will be braving the long wait to return because I want to try all of the things!